I'm linking up for 1st Friday Letters!! Don't get too excited, I have no idea what I'm doing!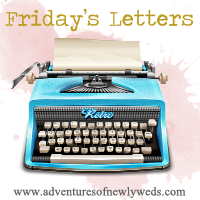 Dear Bank Account, Thank you for being 8 hours late to deposit my check today. I had a minor heartattack when I checked you this morning!
Dear Pool, Thank you for being sooo amazing to me & my BFF last night! SO relaxing!
Dear Scale, Thank you for going down again today. I'm starting you like you. a lot!!
Dear Dead Weight, I hate you. end of story.
Dear Jerrord Neimann, Thanks for the
tweet!!
holllaaa!! ;)
Dear Teething, You SUCK!!! Leave my baby girl alone!!!!
Dear Friday, You make me smile!!!! Because of you I've had a good day so far!!!!

Dear Followers, Sorry if I bore you! I promise I will eventually get back into the swing of things!!!!